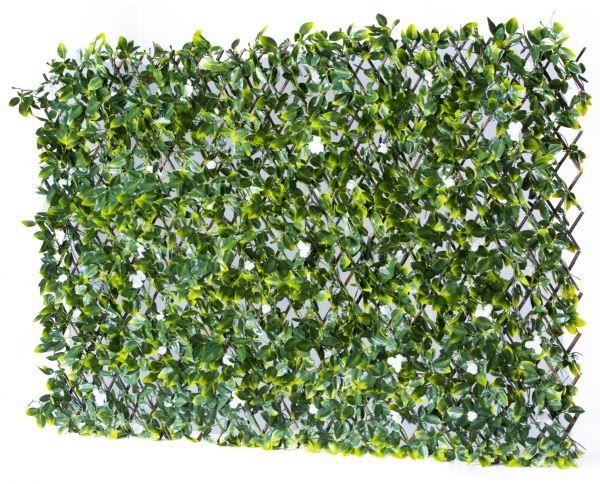 Artificial hedge panels are pieces of artificial foliage that give the appearance of a natural hedge. Here we will discuss the styles, sizes, and materials from which they are made. We will also discuss the benefits in comparison to natural hedges.
Why use artificial hedge panels?
Artificial hedge panels can give a more natural appearance to your outdoor space. You can use them to cover up parts of your house, for example, any unsightly brickwork. And the great thing is because they are made from artificial materials, they are long-lasting.
But best of all, if you are somebody who doesn't have time for garden maintenance, they are ideal because they won't require regular maintenance. You can even use them indoors if you want to.
What styles of artificial hedge panels are available?
Various styles are available, covering all the main types of hedge leaves. For example, laurel leaves, beech leaves, and conifer leaves. Some even come with beautiful summer flowers, which will never be out of season.
You can even get them with LED lights - perfect for adding atmosphere during an evening garden party.
What sizes do artificial hedge panels come in?
Typically, the hedge panels come in two metres by one-metre sections. This means that, no matter what area you want to cover with your artificial hedge, all you need to do is use as many panels to cover the area.
How much do artificial hedge panels cost?
Typically, you can expect to pay about £50 to £60 for a 2x1 metre hedge panel. How much money you end up spending in total depends on how large an area you want to cover with the panels. Of course, a larger area will require more hedge panels and will therefore cost you more money.
What are artificial hedge panels made from?
Artificial hedge panels tend to be made from some form of plastic. For example, the framework would likely be made from PVC, whereas the leaves might be made from polyurethane.
Natural hedges versus artificial hedge panels: which is best?
You might be wondering, which type of hedge should you get for your garden? There are advantages to both natural and artificial hedges, so which you choose depends on what matters most to you.
For example, you might want to have natural hedges to have the nice smells of being surrounded by natural plants and the health and wellbeing benefits that come with that, too. Also, natural plants attract insects and wildlife, so if that's your thing, you might want to consider natural hedges.
On the other hand, artificial hedges can have the same appearance as their natural counterparts but without the hassle. They are low maintenance because you won't need to keep trimming them, and they will look the same all year round. They are also useful for putting up temporarily for a specific event.
Ultimately, it's up to you and depends on whether you want the natural smells and feel of natural hedges or if you want the same appearance without maintenance.