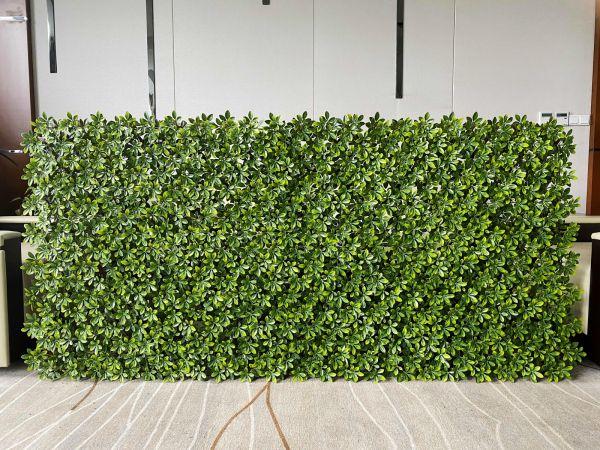 As the much longed-for British summer approaches, now is the perfect time to give your garden a refresh. Whether you are outside planting, playing or BBQ'ing you are going to want to maintain your privacy. But, sometimes a standard hedge, plant or tree simply will not work for your outdoor space.
You may have issues with access to natural sunlight, awkward spaces or inhospitable soil. But, thanks to our high-quality artificial hedging, you can still maintain your privacy as well as a natural look. In fact, thanks to vast improvements in production standards, artificial hedging is an ever increasingly popular choice among consumers.
Is artificial hedging any good?
Unfortunately, the natural alternatives to artificial hedging are often somewhat unreliable. As many gardeners know, it is far too easy for ivy and wisteria to get out of hand. This can result in damage to brickwork, fence panelling and even the structural integrity of some buildings and ultimately negatively affect your property's value.
So, if you are not the most green-fingered gardener, we supply high quality and realistic alternatives that require little to no maintenance and are also easy to fit. You can set them on top or alongside one another for added effect too. Plus, they also don't require any time to settle in.
Is artificial hedging bad for the environment?
No, they are not. Our Laurel products are all-natural, sustainably sourced, bio-based and suitable for indoor and outdoor use. So, they are perfect for use in your garden, patio, terrace and balcony areas.
While they are certified eco-friendly, they are unlikely to attract the same level of interest from wildlife as natural plants. However, this makes them very well suited to people with pollen allergies, bee sting allergies and those with roaming pets who have toxicity concerns. Some elements of wisteria for example are toxic to dogs and this is not widely known.
How do you fit artificial hedging?
We offer a wide range of sizes for you to choose from that are also fully adjustable. So, our artificial hedging is remarkably easy to install thanks to its flexible design. We offer a standard measurement of 2m x 1m, extending by up to 3m x 0.3m. You can also trim each item down to fit difficult areas as required.
Once you have fit the product to your required size you can simply use plastic ties to adjoin the item to an existing fence. Or, you can use pieces of rope, or a drill as you prefer. Placing the tie or screw behind a leaf will ensure discreetness and maintain the natural look that you are after.
For instant year-round eco-friendly and allergy-friendly cover and privacy, it is tough to beat an artificial hedge. You do not need to concern yourself with watering, trimming, toxicity, difficult installations, feeding, bugs or sunlight. As soon as you have made your choice and received your next day delivery simply trim to size, tie up and these hedges are ready to go.