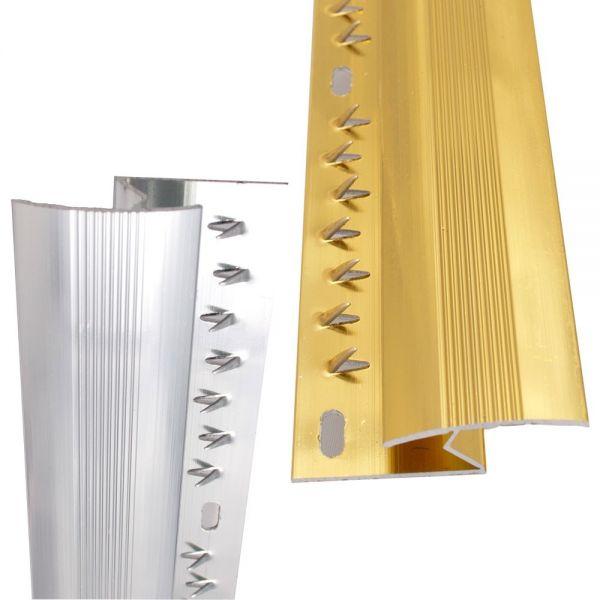 When it comes to styling your home, every little detail counts - those little things can make a very big difference. If you have splurged on a beautiful carpet, one very important detail that you probably initially overlooked is your carpet door plate.
A carpet door plate covers the area between your two rooms, so it frames the transition between flooring options with a secure join. It is the first thing that you see when you enter a room. This protects your carpet from frayed edges and unnecessary damage.
It also ensures that your carpet stays exactly in place without developing folds or creases. So, a great plate option is essential for the perfect flooring finish. In this article, we will explore the different carpet door plate options available for your home and how you can install them yourself.
Carpet Door Plate Style Guide
With so many different options to choose from, it can be a challenge to decide on exactly the best plate for your flooring. That's why we provide a range of colours, finishes and styles to flawlessly complete any interior look. You can opt for something discreet, something more overt or something in between.
A thicker carpet door plate will of course typically be much more noticeable than a smaller one. However, it will also be more effective at doing its job. You should opt for a double door bar if you are bordering carpets or a single door bar for multiple flooring finishes. These are available in either gold or aluminium effects in 0.9m and 2.45m lengths.
For a narrower door plate, we also have 0.91m and 2.43m widths that come in a selection of 11 colours. This includes dark bronze, dark grey, gunmetal, light bronze and matt black. Alternatively, if you have a wood surface we also offer self-adhesive strip plates in similar sizing with 8 different colour options to blend seamlessly with your floor.
Installing Your Carpet Door Plate
Our quality guaranteed stick down trims have a 37mm width. They come with their own self-adhesive glue strips already applied, so you can simply peel off the film and stick them down. However, to fit a metal threshold yourself is also very straightforward.
The metal threshold items are angled so that they sit well between uneven floors as well as even floors. You will need first need to trim the strip to the correct size for your doorway to ensure a snug fit. You will then need a hammer, the strip and some nails.
Then you simply place your bar between the two floors, take a nail and partly tap it in gently. If you like the look then you can tap again for a flush finish. Don't drive your nails in too deep, or you may end up damaging the carpet or the strip. Now you have chosen and installed your carpet door plate successfully, it is there to enjoy for many years.