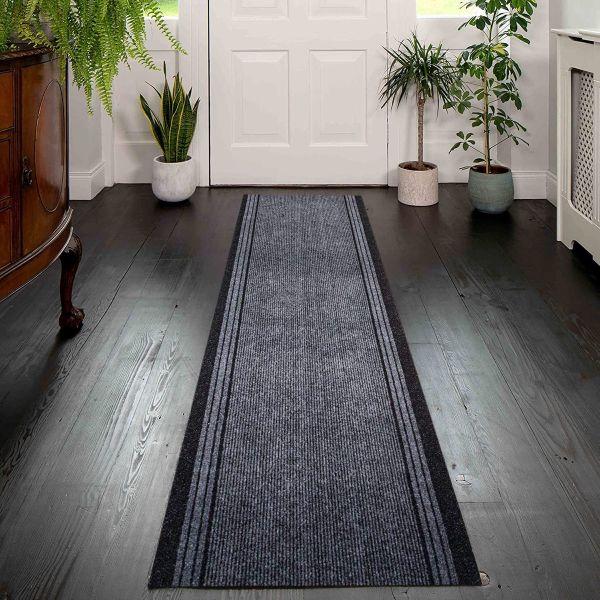 Long hallway runners are rectangular rugs ideal for placing in any parts of your home that get a lot of foot traffic. Typically, this will be the area behind the main doorway or along the main corridor between rooms.
Long hallway runners have two main purposes. Firstly, they protect the floor from being worn out by everyone walking on it. Secondly, they brighten up the space with an attractive design.
Styles and designs of long hallway runners
Much like area rugs, long hallway runners are available in various styles and designs. Which type you choose depends on whichever is best suited to the area in which it will be placed.
For example, the Primavera Hall/Stair Runner in grey would ideally suit a light-coloured flooring. In comparison, the Axminster Hall/Stair Runner would be more suitable for a wooden floor. Or, if you are looking for protection from dirt in a part of the house where people will come in wearing muddy footwear, the Plastic Carpet Protector is an easy solution.
What about patterns?
The style of pattern you choose for your hallway runner depends very much on the design of the space and your particular tastes.
For example, a long striped pattern could be used on a grand entrance to extend the hallway. A floral design like the Wilton Hall/Stair Runner could suit a room containing plants. On the other hand, if your home has a more stark, modern look, a geometric pattern might fit in well.
What is the best material for long hallway runners?
Ideally, long hallway runners need to be made out of synthetic fibres, particularly if they are to be used near the main entrance to the property. Unfortunately, natural fibres don't tend to be so suitable for withstanding moisture. Imagine people coming in with wet shoes or excitable pets making a mess.
The Concorde Hall/Stair Runner, for example, is made of high-quality synthetic fibre, making it nearly indestructible, waterproof, and able to withstand constant use by pets, adults, and children. Alternatively, the Wilton Hall/Stair Runner is created from a man-made fibre called Polypropylene, making it 100% bleach cleanable and stain-resistant.